G.E. Tignall & Co., Inc.,
14 McCann Avenue
Hunt Valley, MD 21030

Phone: 410-666-3000
Fax: 410-666-3775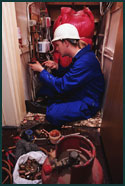 G.E. Tignall & Co., Inc., an employee-owned company, is a mechanical contracting firm whose full range of services include new construction, renovation work, plumbing, drain cleaning, air-conditioning and heating services. We currently serve a wide cross section of commercial, industrial, institutional and residential customers in the Baltimore metropolitan area. Additionally, we offer 24 hour emergency service.


G.E. Tignall & Co., Inc. takes pride in out work and has been able to grow because of the high quality craftsmanship of our finished product. We perform quality work in a safe, responsible and timely fashion.


G.E. Tignall & Co., Inc., is a well-established member with in the Baltimore metropolitan contractor community as it is actively involved in numerous local trade organizations including the American Subcontractors Association, Air-Conditioning Contractors of America, Maryland Plumbing-Heating-Cooling Contractors, Associated Builders and Contractors and Building Congress and Exchange. If you are interested in our services or in joining our team please contact us as follows or via the request for Bid/Service or Help Wanted page of this site. Thank You.